This post will give a step by step guide on how to buy Kadena (KDA) safely and easily.
Kadena is a blockchain that emerged from JP Morgan's Blockchain Center for Excellence. The company claims it is the fastest blockchain platform in the world. Kadena's Chainweb public protocol is described as functioning through a "braided, parallelized consensus mechanism, a unique architecture that boosts speeds while preserving the security of the Proof of Work consensus utilized by Bitcoin." In 2020, Kadena began to be listed on cryptocurrency exchanges for traders and investors to buy and sell. If you want to buy and sell Kadena tokens, then let's find out the best place to carry this out?
1. Visit CoinMetro
Head on over to CoinMetro here. CoinMetro is a safe and regulated cryptocurrency exchange that has 24/7 support. Buying QNT tokens on CoinMetro is easy.
Log in or create an account if you are a new customer.
2. Deposit funds
On the dashboard, click deposit.
Select your currency or cryptocurrency you'd like to deposit. For this example, we'll deposit pound sterling.
You'll then see CoinMetro's bank details as below: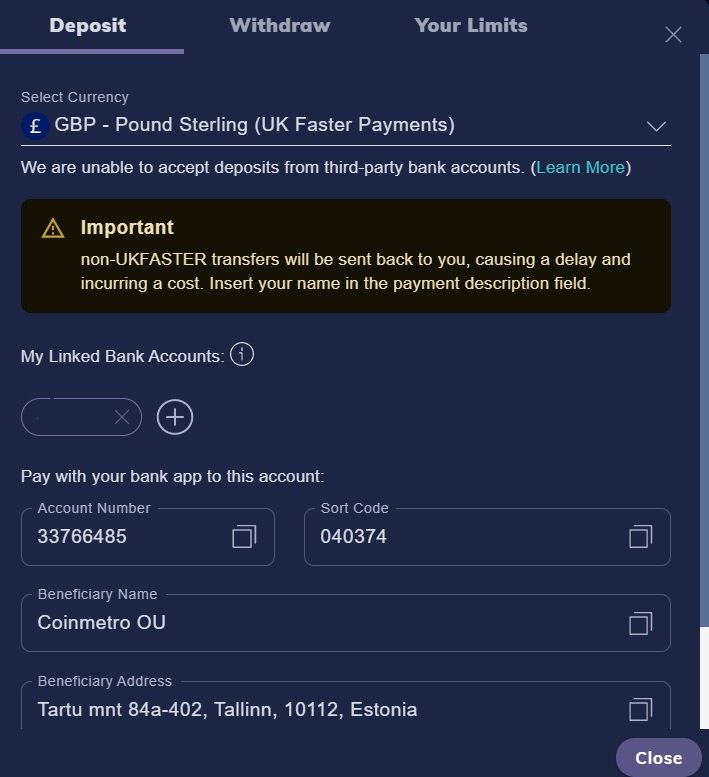 Head on over to your bank and pay a new payee using the CoinMetro bank details. Transfer the funds. It's quick, easy and safe.
While writing this post we test transferred GBP into CoinMetro, and it was cleared in under 10 minutes!
If you're using Euros or USD, then CoinMetro have you covered.
How to buy Kadena token pool
When you go back to the dashboard, in the top right hand corner, you'll see the CoinMetro swap widget.
Buying KDA with your newly deposited funds is easy.
On the To Buy line, change the dropdown to KDA
On the Pay Via line, change the dropdown to your deposited fund type e.g. GBP in our case
If you want to spend the full amount, simply click on the word Available
Click View Summary:
Check the transaction and click Confirm:
You now are the owner of KDA!
Need to sell KDA tokens? Then simply use the widget on the sell tab.
When you are happy with your trade, click View Summary and then Confirm.
How to buy KDA – wrapped up
Now you know how to buy and sell KDA tokens on a safe and regulated exchange. Want to get started? Then head on over on the link below. We receive a small affiliate commission when you use our link which helps keep the lights on at coinesper.com.
Visit CoinMetro and buy Kadena today
Thank you in advance!