This post will give a straightforward guide on how to buy Quant (QNT) safely and easily.
Quant has developed Overledger OS – the world's first distributed ledger technology (DLT) operating system for enterprise that delivers interoperability between different DLTs, as well as existing platforms, business applications and networks. If you'd like to buy QNT (the native token of the platform), then here's a simple step by step guide.
1. Visit CoinMetro
Head on over to CoinMetro here. CoinMetro is a safe and regulated cryptocurrency exchange that has 24/7 support. Buying QNT tokens on CoinMetro is really easy.
Log in or create an account if you are a new customer.
2. Deposit funds
On the dashboard, click deposit.
Select your currency or cryptocurrency you'd like to deposit. For this example, we'll deposit pound sterling.
You'll then see CoinMetro's bank details as below: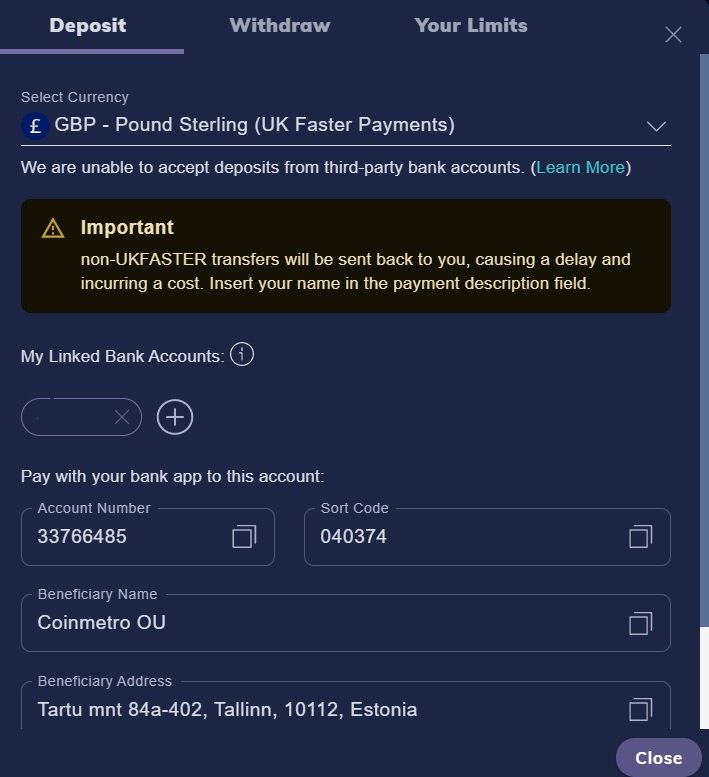 Head on over to your bank and pay a new payee using the CoinMetro bank details. Transfer the funds. It's quick, easy and safe.
While writing this post we test transferred GBP into CoinMetro, and it was cleared in under 10 minutes!
If you're using Euros or USD, then CoinMetro have you covered.
How to buy Quant token
When you go back to the dashboard, in the top right hand corner, you'll see the CoinMetro swap widget.
Buying QNT with your newly deposited funds is easy.
On the To Buy line, change the dropdown to QNT
On the Pay Via line, change the dropdown to your deposited fund type e.g. GBP in our case
If you want to spend the full amount, simply click on the word Available
Click View Summary:
Check the transaction and click Confirm:
You now are the owner of QNT!
Need to sell QNT tokens? Then simply use the widget on the sell tab.
Once satisfied with the trade, click View Summary and then Confirm.
How to buy QNT – wrapped up
Now you know how to buy and sell QNT tokens on a safe and regulated exchange. To get started head on over on the link below. We receive a small affiliate commission when the link is used which helps keep the lights on at coinesper.com.
Visit CoinMetro and buy Quant today
Thank you in advance!