This post will give a straightforward guide on how to buy XCM, the native token of the CoinMetro exchange, safely and easily.
CoinMetro has shown meteoric growth. It's quickly becoming the go-to exchange to buy and sell high-quality projects in the crypto space. CoinMetro is a safe and regulated cryptocurrency exchange that has 24/7 support.
The XCM token is the CoinMetro exchange's native token. XCM tokens can safely be stored in your CoinMetro account, but it is also possible to withdraw XCM to any ERC-20 compatible wallet.
What is XCM used for?
The purpose of the XCM token is to offer benefits and value to users of the exchange and to continue expanding the use cases with all of CoinMetro's existing and upcoming products.
The most important use case for the XCM token is that it is directly tied in with the platform activity and automatically contributes to the demand of XCM:
100% of all fees on the platform will be used to purchase XCM directly from the market, on a regular basis.
1-50% (based on different factors) of each XCM fee conversion will be vaulted for 4 years, taken out of the circulating supply. As platform usage increases, so will the demand of the XCM token.
Rebates – to get the best trading fees
By locking XCM in a rebates tier, you will be paid maker fees, and be paid back a portion of your taker fees.
Read this for a more in depth overview on CoinMetro's rebates.
Benefits of holding XCM also include the ability to start your own private Copy Trader account and reduced the associated performance fees.
XCM can be unlocked at any time.
How to buy XCM?
1. Visit CoinMetro
Head on over to CoinMetro here. Buying XCM tokens is really easy.
Log in or create an account if you are a new customer.
2. Deposit funds
On the dashboard, click deposit.
Select your currency or cryptocurrency you'd like to deposit. For this example, we'll deposit pound sterling.
You'll then see CoinMetro's bank details as below: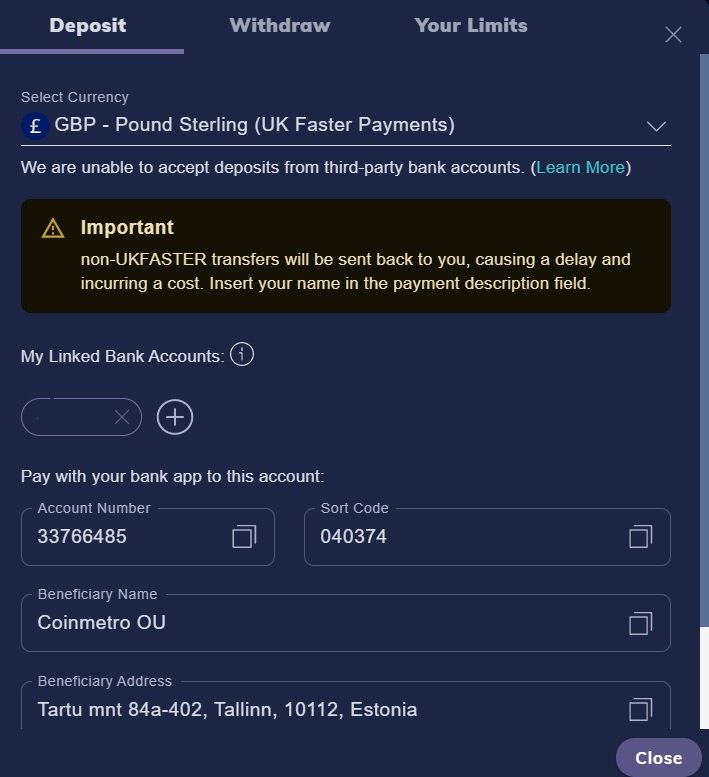 Head on over to your bank and pay a new payee using the CoinMetro bank details. Transfer the funds. It's quick, easy and safe.
While writing this post we transferred GBP into CoinMetro, it was cleared in under 5 minutes!
If you're using Euros, USD or AUD then CoinMetro have you covered.
When you go back to the dashboard, in the top right-hand corner, you'll see the CoinMetro swap widget.
Buying XCM with your newly deposited funds is easy.
On the To Buy line, change the dropdown to XCM
On the Pay Via line, change the dropdown to your deposited fund type e.g. GBP in our case
If you want to spend the full amount, simply click on the word Available
Click View Summary:
Check the transaction and click Confirm:
You now are the owner of XCM!
Need to sell XCM tokens? Then simply use the widget on the sell tab.
Once satisfied with your trade, click View Summary and then Confirm.
How to buy XCM – wrapped up
Now you know how to buy and sell XCM tokens on a safe and regulated exchange. To get started, head on over on the link below. We receive a small affiliate commission when you do which helps keep the lights on at coinesper.com.